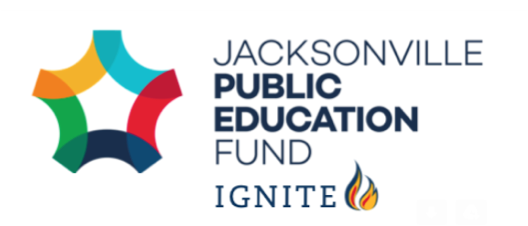 Ignite Young Professionals Group by the Jacksonville Public Education Fund  
Igniting philanthropic power from the next generation 
What is it? 
Ignite is an affinity group for young professionals that focuses on igniting, YOU, the next generation of leaders and philanthropists in education!
While exploring what it means to be an advocate for education, participants will aid in the development of innovative strategies to combat the challenges facing our public schools and students.
Participants learn to advocate for the improvement of public schools through training, support, and access while networking in a social environment.
Who is it for?
A member must meet the following requirements:
Applicants must be passionate about public education and eager to learn
Applicants must be between 18 and 40 years old
Applicants must make an annual contribution to JPEF Membership
What are the benefits?
Ignite membership includes the following perks:
Discounted tickets at events such as EDTalks.
Opportunities to participate in workshops, special events, fundraisers, volunteer initiatives, and gain a new network of like-minded people.
Professional development opportunities to participate on various JPEF board and initiative committees
What EVENTS ARE PLANNED FOR IGNITE MEMBERS?
Ignite Launch Party - July 2021
Workshop 1 - Opportunity Gap - Summer 2021
EDTalks - October 2021
Holiday Social - December 2021
Workshop 2 - Equity and Human Capital - Winter 2021
School Tour - Spring 2021
Workshop 3 - Student Preparation for the 21st Century - Spring 2021
Quarterly Advocacy Night - Dates and Topics TBA
Contact Veronica Session-Fennell at veronica@jaxpef.org to learn more.
Special thanks to our sponsors!
This effort is made possible by:
Presenting Sponsor
The CEM Foundation
Blaze Sponsors
Marcus and Entrice Rowe
And a special thanks to: Buck and Susannah Williams , Coley and Nicosia Jones, Terry Walton